Prohunter Gloves - Goretex
The Harkila Pro Hunter Goretex gloves promised to be warm, waterproof and durable, and they have succeeded on the first two counts.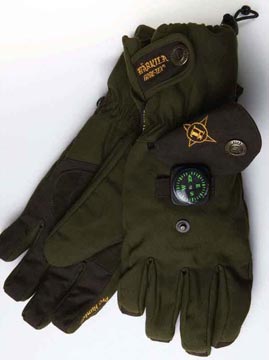 The gloves are insulated and have a goretex liner so they are warm and waterproof but I am disappointed by the durability. These have seen light work as I've been reluctant to trash them due to their high cost but despite this the seams are starting to come apart. The seam splitting has occurred at the base of the thumb and most of the fingers. Perhaps a bit more of a seam allowance would cure this. A shame as it's a really nice glove.
Dexterity is good considering these are insulated and the draw strings and snap cuffs make for a very comfortable and snug fit.
The compass is gimicky and mine failed to find a consistent north. It went in the bin. The snap covers catch annoyingly on pocket edges and are a devil to do back up with the gloves on - left undone they flap around.
The Harkila Kodiak hunting gloves are a similar price, have more leather on the palms and don't have flaps - if I could redo my purchase I'd choose them instead.